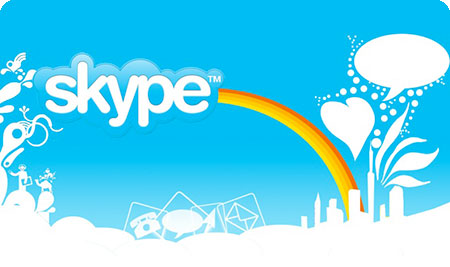 I knew about Skype – it's an online application that lets anyone make audio and video contact from computer to computer as long as each person has Skype installed and running. You could use it to make Skype "calls" to and from anywhere in the world for free. I tried it, it was okay, and I let it go – I didn't have a business purpose for it, my clients typically aren't running Skype.
Then I moved my day-to-day business from my "home-office" to an actual office where I can focus fully on work, and avoid the distractions that occurred at what I used to think was my "convenient" home-office. At my new office I tried using my cell phone for business, but I came late to cell phones, and I'm thrown-off by the time lag when speaking (especially when both parties are on cells), and the lousy sound quality (often because my client was also on a cell phone while walking, driving, going into a tunnel, etc.)
On a tip from a colleague, I took another look at Skype and found something unexpected: for $2.50 a month (to me that's just like "free" after I factor it with the "Starbucks Daily Coffee Cost Allotment" method), I could use Skype to make phone calls to anyone, anywhere in the US and Canada, and to their regular phone number. I bought a USB phone headset so I could have the earpiece and microphone together and not rely on the computer's low-quality built-in microphone, and I set up my Skype $2.50/month plan.
Surprise! I am regularly asked by the people I call, "What kind of phone is that? It sounds so good." Not only am I using the Internet to make my outgoing calls, but my computer is connected to the Internet via a wireless router. Audio streams don't require the bandwidth that video needs, so using Skype "untethered" still works perfectly. The headset I'm using is one reason it sounds so good – and the incoming sound makes the people I'm speaking with sound like they're broadcasting from radio station audio booths too!
Each time I login to Skype, I "Take a deep breath" and feel just terrific about my newly discovered means for telephone communication.
Skype can be downloaded and used for free from http://skype.com
I'm using the Plantronics Audio 610 USB Headset ($19 on Amazon) that connects via USB. It works on the PC and on the Mac: http://tinyurl.com/6f72s9.
Enjoy! (And call me when you try Skype for yourself!)
–Marc
November 2, 2008 @ 9:00 PM
You can subscribe to "The SilverMarc Quasi-Periodical Send-Sheet" (sent not too often and purposely kept short and to the point): Click Here to Subscribe: http://tinyurl.com/sendsheet
View the other Send-Sheet Articles at this link: http://silvermarc.com/email