Web Development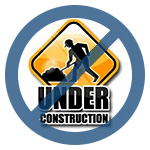 Not Here!
We build web sites that DO THINGS!
We can implement automated features and tools so your site will take on its share of your business workload.
Is your web site "Under Construction"?
No matter how clever that little sign is, it sends one message to viewers, "We're incomplete!" A content management site lets you keep your content up-to-date and bring back its cool factor.
Is your main page the same as always?
You can update your pages regularly – yourself or someone on your staff – without the need for web or coding knowledge. Your site can always provide new messages to viewers!
Web Development
Client Web Sites
Automated Features
SilverMarc's Send Sheet
Online Commerce
Web Hosting
Let's get together – We'll change your site from a silent partner
to an active partner that helps your business grow.
Your web site IS your business partner…
Let's put it to work!