Let's All Sing Like the Birdies Sing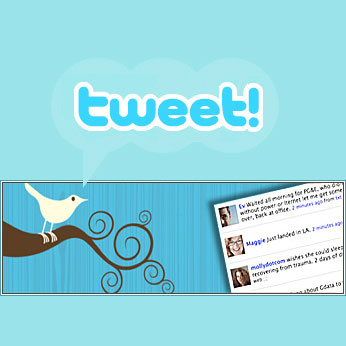 What are you doing?
I'm wondering whether it's at all possible to make a statement that's not more than 140 characters in length that says something pertinent.
(Okay, that's 139.)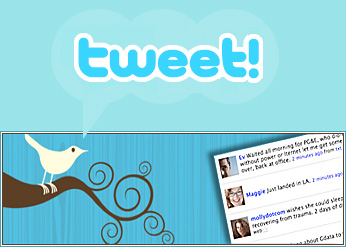 What are you doing?
Demonstrating how people worldwide have found that posting "tweets" that are seen by folks who follow them is a timely way to communicate.
(138, easy.)
What are you doing?
Reading posts by favorite Mac writers and others related to my business and interests who have useful things to say, and do so regularly.
(137. Got it.)
What are you doing?
Pulling together my thoughts about Twitter, which some consider a huge waste of online space, but others find a novel form of communication.
(140 exactly!)
The Twitter web site is one of the easiest to "get" – You can type whatever you want, but when you do it must be 140 characters or less. That's easy, but what do you type?
Some people type inane things:
riseordecay Remember when we never had to remember when?
cheeky_geeky Pleased that I taught Loic Lemeur something, even if it was just that F = (C x 2) + 32.
Valeta Now I am making an apricot pie. MMMMM.
And even inane tweets in other languages:
11870 Miss Powers se acaba de guardar Hostal Erottajanpuisto y 2 más.
Others type important things:
MichaelDWalker But he lied about 2nd job too so maybe he was delusional or suffering some other mental illness…???
arnoldgamboa Watched a couple of Edwin Valero fights at YouTube. Arum is kidding. He wants this guy to fight Pacquiao? What will Manny get out of this?
adirondackcamp White team claims the Capture the Flag plaque to equalize the plaque count on the summer!
Well, they're important to somebody!
But a most interesting use of Twitter is simply "to announce." Along with the friends and colleagues I follow, I receive the "tweets" posted by the Mars Lander team, the NY Times Science section, and other news sources:
MarsPhoenix Arm can't crack through thick layer of solid ice but can scratch the ice with a blade & use a powered "rasp" to drill for samples. http://twitter.com/marsphoenix
nyt_science William R. Bennett, 78, Pioneer in Gas Lasers, Dies. http://tinyurl.com/6dofua
MyFoxNY Freed Colombian Hostages Urge Hope: Freed after years as rebel-held hostages, French-Colombian politician. http://tinyurl.com/6mupjs
Twitter's business model is still a bit of a mystery – no ads, no fees – but it runs on a simple core-concept: People are eager to connect with other people and Twitter makes that simple.
The result of using Twitter to stay connected with friends, relatives, co-workers and even businesses is that you have a sense of what folks are up to but you are not expected to respond to any updates unless you want to. This means you can step in and out of the flow of information as it suits you, via mobile texting, instant message, or the web. You're very much in control of whose updates you receive, when you receive them, and on what device. This is known as "ambient information," and my upcoming Send-Sheet (Hello Chumby!) will focus on a company that's created a totally brand new marketing category: an "Ambient Information Delivery Device."
Visit the Twitter web site at: http://twitter.com
Take a look at my own inane/important (or otherwise…) "tweets" at: http://twitter.com/silvermarc
Enjoy! (And let me know if you'd like me to follow you on Twitter!)
–Marc
July 7, 2008 @ 1:00 AM